2019 was our first convention, up in the mountains of Taos, New Mexico. Interested in seeing one of these events come back? Contact us!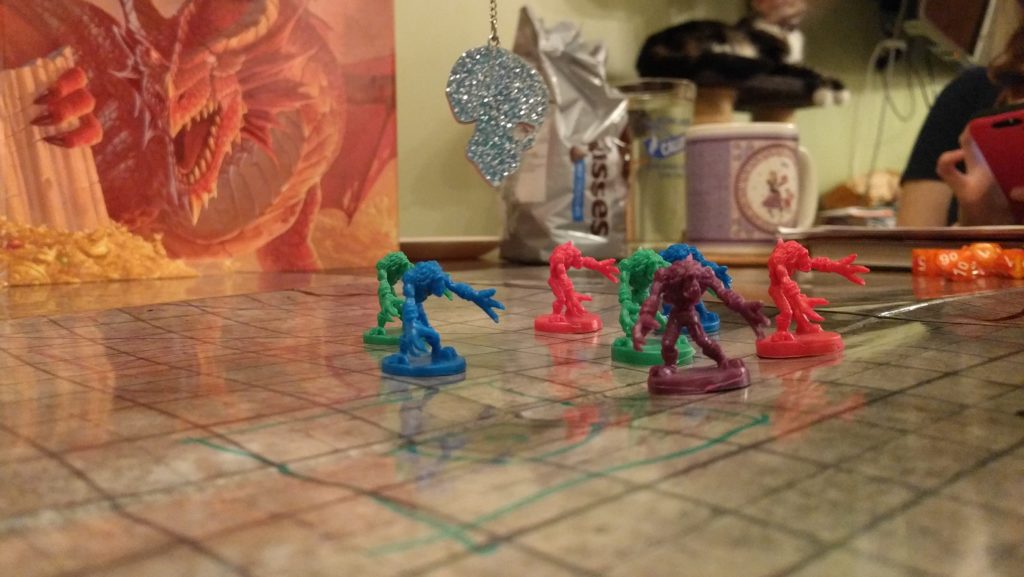 Thursday, May 16th, 2019
10 a.m. – Midnight – Open Gaming – Find a few people and jump into a game.
3:00 p.m. – 5:30 p.m. – Root – Woodland creatures fight for control of the forest. Cute components, deep gameplay. This is your chance to play one of the hottest games on the market. GMs: Sudha Setty and Evan Kennedy
7:00 p.m. – 10:00 p.m. – Lady Blackbird – Tabletop RPG about the crew of the smuggler skyship The Owl and their escapades escorting the eponymous Lady Blackbird to her secret lover, the pirate king Uriah Flint! Simple mechanics mean it's easy to pick up one of the pre-generated characters and jump right in, no prior experience needed! Just bring ample imagination and a willingness to share it (and d6's if you've got em!) (Game will be capped at 5 players) GM: Ryan Humphrey
Friday, May 17th, 2019
9 a.m. – Midnight – Open Gaming – Bring your favorite games or just yourself.
9:00 a.m. – 1:00 p.m. – Mare Nostrum: Empires – Grow your ancient empire through trade and conquest and a mythological creature or two. Features a unique resource collection and trading system that requires diversification to build great Wonders. GM: Evan Kennedy.
1:00 p.m. – 3:00 p.m. – Wildlands – Vie for control of a fallen fantasy kingdom. Beautiful minis. Designed by Martin Wallace, the same person who did Brass, A Study in Emerald, and lots more. GMs: Evan Kennedy and Sudha Setty
3:00 p.m. – 5:00 p.m. – Codenames – Team vs. team word game with an espionage theme. One spymaster for each team gives hints to their teammates to get them to guess the code names of their team's spies. GM: Claire Dawson
7:00 p.m. – 11 p.m – Magic: the Gathering – Casual Magic Draft following standard rules. We'll be drafting the most recent set, War of the Spark. $15 buy-in gets you three packs for drafting, and one participation pack at the end. GM: Paul Schulzetenberg
7:00 p.m. – 9:00 p.m. – 7 Wonders – Build one of the seven wonders of the ancient world as you lead your civilization to glory in this fast-playing card drafting game. GM: Claire Dawson
Saturday, May 18th, 2019
9 a.m. – Midnight – Open Gaming – Meet new people or reconnect with old friends.
9:00 a.m. – 9:00 p.m. – Mega Civilization – The massive 18 player game that simulates 8000 years of history in a mere 12 hours. Don't let the playtime fool you, this is great for newbies. This beast plays up to 18 players, and is a perfect game for a convention. When else are you going to have a chance to play something of this scope? GM: Paul Schulzetenberg
10:00 p.m. – Midnight – Star Trek: The Next Generation: The Interactive VCR Board Game: A Klingon Challenge – Ham it up with Captain Kavok! This cheesy 1993 game puts players in the role of the crew of the USS Enterprise, trying to keep a rogue Klingon from wreaking havoc. GM: Paul Schulzetenberg
Sunday, May 19th, 2019
9 a.m. – 5 p.m. – Open Gaming – Play old favorites or the new hotness.
9 a.m. – 5 p.m. – The Magic: the Gathering Command Zone – Magic: the Gathering in Commander format. Open house timing, come when you want, leave when you want. Bring your own deck, or we can provide one. Prizes included! Full rules can be found here. GM: Todd Sipe
9 a.m. – 1 p.m. – Night Witches – Tabletop RPG based on the true story of a WWII regiment of women Russian pilots who would run night bombing raids on the Nazis using outdated first-world-war-era biplanes. How much more badass does it get? GM: Tara King