MañanaCon is great, but it only lasts 4 days. What do you do about the other 361 days of the year? Your only option is to buy something that will remind you of the good times every time you look in the mirror.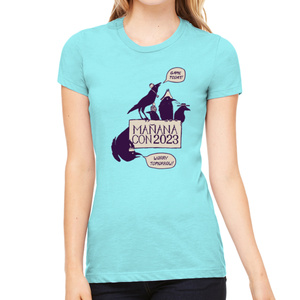 Available in XS – 5XL t-shirt, and XS – 3XL in a fitted shirt, this official con shirt will establish you as a person of reputation and stature that truly has their priorities in order.
Designed by local artist (and fellow gamer!) Andrew Fearnside, this tee is inspired by a vintage Diplomacy box and incorporates our beloved crow mascot. Craving a closer look? Let your eyes rest upon this beautiful hi-res image and feel them soothed by pictures of crows in hats.
T-shirts will only be available as a limited run. Shirts will be available to order only until August 7th! There may be a very limited number of shirts available at the Con, but the only way to guarantee a shirt is to order it in advance.
And lastly, our shirt design changes from year to year, so if you like this one, get it now!